COVID-19 continues to significantly impact businesses, but there are ways companies can emerge from the current crisis stronger.
The Wilmington Business Journal recently asked corporate and securities attorney Ken Bart and Director of Consulting for Ward and Smith Business Consulting, Hank Harris, how businesses can strategize for a post-pandemic environment. Their comments appeared in the latest "Insightful Discussion."
COVID-19 has brought stressors on businesses that were unheard of just a year ago. What should business owners be thinking about strategically at this moment in time?
Hank Harris: I think the one thing that all business owners need to consider is how their business will transition to the next leader or generation of leadership. In the big picture, all businesses have only two fates – they are either sold or they are liquidated. An internal transition is just a form of sale. It may be to family, or employees, and discounted; but it is still a transaction. Three things are different today. First, privately-held business models are less homogenous than they used to be. Widely held ownership in a private company is more common in today's world. Second, there are more exit strategy options available to owners today. At this time in particular, it's worthwhile for owners to understand their exit options and prepare, even if that time is still a decade away. And third, with COVID-19, everyone is thinking through scenarios that just a year ago would have been unimaginable. No one saw this coming.

Ken Bart: I'm hearing from business owners who are stressed about the impacts of closure, reopening to fewer customers, or needing to sell their business in order to gain access to capital. I'm talking with a few clients about bankruptcy protection afforded to businesses that will allow them to restructure to emerge from bankruptcy in a way that protects their employees and their customers. My partners and I are helping clients with lease negotiations or re-negotiations, revisiting agreements with lenders, vendors, and service providers, and talking through a plethora of employment issues. I have to say, I continue to be deeply impressed by our business clients and the creativity and resiliency they display every day. It will take awhile to get back on even footing, but everyone wants to return to the pre-virus state as soon as possible.
Businesses in the pandemic are faced with managing a slew of employee-related issues. What issues are you seeing recently?
Bart: We're seeing some employers struggle with considering downsizing or closing. When downsizing a workforce or closing a business is on the table, our employment attorneys advise employers in order to decrease potential employer liability. For example, companies employing 20 or more employees are subject to the Age Discrimination in Employment Act, which protects employees from age discrimination. Likewise, other protected categories under Title VII of the Civil Rights Act of 1964 (applicable to employers with 15 or more employees) such as race, gender, gender identity, national origin, pregnancy, and disability also can create the unwanted appearance and potential liability of discrimination where there is actually none.

We also remind clients that, depending on the number of employees employed, if there is a "plant closing" or "mass layoff" under the federal WARN Act, there are certain and specific notice requirements that, if not met, expose businesses to liability as well.
Harris: I've spoken with clients about multiple employment priorities. One that some owners haven't considered is the need to safeguard key employees who might be sought-after and prone to advances from recruiters. If you have a key employee, now is the right time to be sure that person understands you need them. Business owners are also keenly aware that now is the time to protect critical relationships with vendors and customers, and do what you can to reinforce your company culture, even if some of your employees are working remotely.
This may be a good time to look at expansion for some businesses, particularly in transportation, healthcare, and logistics. What are potential funding strategies for companies looking to expand, acquire an existing business, or to increase working capital reserves?
Bart: This is what I do for a substantial amount of my practice, so I'll take this question. Traditionally, companies would look to a bank for a direct capital loan to be repaid over time. However, there are several alternatives available to companies that require capital to either expand the business, make strategic acquisitions, purchase additional products, or hire employees or consultants. A private offering of equity is a beneficial option for viable businesses that are able to show potential growth and operational success. In addition, while direct stock or unit offerings are a common method of raising capital, for companies that are concerned about ownership dilution, debt offerings, whereby the company conducts an offering raising a certain amount of money through promissory notes or other debt instruments are also a possibility. Some business owners are surprised to hear that if they do not have access to accredited investors, venture capital groups, or other funding sources, they may also hire a licensed broker to act as an underwriter for the equity or debt offering, meaning that the broker would be responsible for securing investors who will participate in the offering.
We touched on remote work earlier. Given that such a large segment of the workforce is still working remotely, what advice do you have to ensure a successful remote work arrangement?
Harris: Managing morale in-person can be difficult and doing so remotely is a herculean task. We have recommended normal, weekly video conference check-ins for employee teams. The most important thing, in our view, is for leadership to be visible, communicative, and responsive to employees. People make up their own narratives when they don't have the facts, so arming your workforce with information is a key priority for leadership at this juncture.

Bart: Our employment lawyers have spent months working with businesses on that question. One thing we tell our clients is to have a written Remote Work Policy in place to clarify expectations. Having a written progressive discipline policy in place, and following it, also is important. Also, our employment attorneys say that providing employees who are not meeting performance or work attendance expectations with written warnings is important to help defend against possible claims of wrongful termination and to possibly challenge an employee's claim for unemployment benefits.
What are potential exit strategies for companies due to the current pandemic and issues related to COVID-19?
Bart: During the previous several years, private equity groups have been at the forefront of the mergers and acquisitions market. Due to the impact of COVID-19, the mergers and acquisitions market is beginning to shift, with large private or public companies becoming more active in acquiring competing businesses in an effort to gain a greater market share and eliminate competition. I suggest that business owners who desire to exit their business through a company sale look to their larger competitors for a potential buyout. One side note….after helping numerous clients through this process, I have to stress how important it is to prepare for a potential sale by ensuring that all corporate books and records, financial statements, organizational documents, tax returns and other important corporate documents are well maintained and kept in an easily accessible location and format. Any potential buyer is going to require a due diligence process that will involve a thorough inspection of a company's corporate documents. You'd be surprised how often businesses don't have that information readily accessible.

Harris: I could not agree with Ken more. Often, we on the consulting side are able to come alongside a company's management team and help them gather and source the materials they will need to position themselves in the best light for investment or sale. That's part of the planning we do with clients that they sometimes don't know they need help with until the deal is staring right at them, and then they wish they had more experience getting this pre-funding phase in order. Clients need lawyers to make the deals happen, and we can help before the attorneys get involved to smooth that transition and help management prepare for the change at hand, whether that be an acquisition or a sale.
You've talked about succession planning and exit strategies a couple of times. What should business owners or managers consider in succession planning?
Harris: Owners with family in the business may face a number of complexities. A common one is a generational transition involving children that want to be in the business and other children who do not. How do you set the business up for success, but also treat all of the children in an equitable fashion? This can relate to one of the biggest issues, which is establishing a clear set of goals for the transition. Business owners often want to pursue technical or tax-driven transition methods, but this can often add to the confusion if the goals and people issues are not clear. If an owner can lay out exactly what he or she wants to see happen, the right technical answers will follow pretty naturally.

Bart: We spend a lot of time with clients on what Hank is calling the technical answers. We help them with getting a business valuation, negotiating operating agreements and buy-sell agreements, and advising on issues related to the overall transition process. We have found that a comprehensive strategy that addresses both the business transition need and the owner's estate planning and tax planning needs typically serves everyone's interests.
"Insightful Discussions" is sponsored content distributed by the Greater Wilmington Business Journal.
About the Authors
Ken is a business and securities attorney practicing corporate and transactional law. He works with public and privately held companies and their shareholders. Clients rely on Ken to advise, assist, and represent them in a broad range of business matters including public and private offerings, 33 Act and 34 Act registration statements and filings, corporate governance and compliance issues, FINRA and DTC filings, and public entity uplisting. He has also negotiated and closed numerous mergers and acquisitions.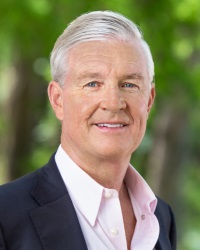 Hank spent most of his career in a national management consulting and investment banking firm, specialized in working with privately held businesses. He rose to become CEO and Chairman of that firm, where he still maintains an affiliation and many friendships. His joining of the Ward and Smith Business Consulting team is somewhat of a "passion project," presenting an opportunity to help closely held business owners within his home state of North Carolina, and to do it with his friends at Ward and Smith, P.A.